In life people struggle. Sometimes it is against the very forces some call progress. As we refocus priorities during this election season, I share reflections from a photo series shot across California over the last couple years using a 3D stereograph camera.
Out of time. Some of us run out of time.
The smooth green hills and wide flat planes of the Joaquin Valley are where sheep and cattle grazed, bringing a reasonable living for the indigenous. Both are gone. Now, along the Central and Southern Pacific rail line, the fastest and cheapest route between San Francisco and Los Angeles, farmers hire migrants to plant seasonal cash crops: asparagus, nuts, beets, tomatoes, barley.
When oil is found near Kern, rows of drilling derricks of cedar and metal suck the blackness from leased hillsides and swaths of land, hoping against a bet. Agriculture, petroleum, and transportation take a toll on California.
Sugar beet processing plants, financiers of whole towns, are sold, merge with conglomerates, or close. The Central Valley air becomes too dense with truck particles to breath. Then the water goes. Protest signs pop up on fences of fallowed fields, across from burned vineyards, almonds trees and old machinery.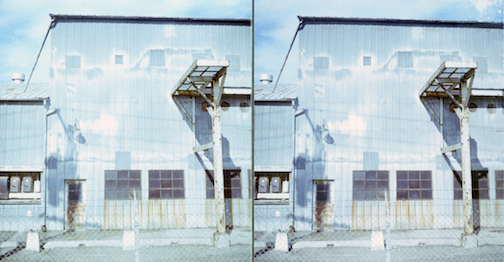 A few oil derricks remain, but most move offshore, to places like Santa Barbara, where the EPA gets its start. Homes like workers become mobile; chic if you live in a railcar designed by a grad student, yet out of time if in a trailer park housing eight, three with legal papers.
Square boxes, fenced and manicured by hedges and palm trees, the semblance of stability and tranquility.
Words + stereograph crossviews by: Reggie Woolery, 2016